Get A Grip With ESI Grips
I came across the ESI Grips shortly after getting sucked into the world of Weight Weenies, a website that helps you reduce the weight of your bike. I am now convinced that these are the best mountain bike grips you can find. The weight weenies story is a whole other story all its own, coming soon...
I had been using the Ergon GP1 Grips
 for the past 3 or so years and they were getting pretty worn out. According to my search on Weight Weenies they are also incredibly heavy. The Ergons are incredibly comfortable, but they weigh in at a very hefty 215 grams. (453.592 grams equals 1 pound, so these weighed roughly half a pound).
This was the middle of the 2012 race season and I had become mesmerized by some of the lightweight bikes I was racing against. Thus began my search to find a replacement set of mountain bike grips that didn't weigh quite so much. My search eventually led me to find the ESI Chunky MTB Grips which I purchased at my local bike shop Cadence Cyclery for $19.
These ESI Chunky Grips weigh just 60 grams, meaning I saved a full 155 grams by switching to them.
There is also a Racers Edge version that removes some of the padding and weigh only 50 grams. I chose the Chunky version because I wanted the additional padding for maximum shock absorption, and 10 grams in savings isn't worth the possible discomfort.
If you don't have a local bike shop or they do not carry ESI Grips, you can also find them on Amazon. But please support local bicycle retailers as a first option.
Best Mountain Bike Grips 2013
This is not an understatement. I put these grips on my bike in November 2012, just a week or so before the first endurance race of the season. Since that time I have logged a couple hundred miles on my mountain bike and feel that I know these grips pretty dang well.
The ESI Chunky MTB Grips are 5-1/8″ in length and 32mm in diameter and includes bar end caps with the packaging. These grips are made of high density silicone that is incredible in wet conditions. Your hands won't budge an inch while holding these things because the silicone doesn't hold moisture from the weather or your sweaty palms.
The shock absorption factor is also really impressive. I was afraid that I would have sore wrists, palms and arms after switching away from the Ergon grips, but my hands are actually more comfortable on these. And what is really amazing is that the silicone is kind of like memory foam, after about 5 rides it had begun to conform to my hands riding position making them even more comfortable. Another plus is that these things don't slip or move at all once you get them on.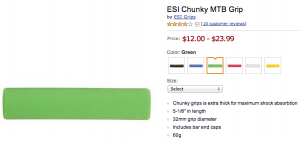 One of my favorite thing about the ESI Grips is that they come in an assortment of colors. You aren't just stuck with the standard black, but instead have some freedom and can color match with the rest of the bike. I was in the process of trying to get some bling and color on my bike last fall and went with the red grips to match a few other accent pieces I had picked up
Installation for these mountain bike grips is possibly the only downside. It can be a little bit of a struggle figuring out how to fit it over the handlebars. Here's how to do it.
ESI Grips Installation Tips
Remove your old grips and use some rubbing alcohol or hand sanitizer to wipe down your handlebars. This is important because it removes all of the dirt and grime and prepares a clean surface for your new ESI Grips.

Next use rubbing alcohol or hand sanitizer and really saturate the inside of the ESI Grips your putting on.

Putting rubbing alcohol on the grips gives a small bit of lubrication when you are first putting them on. The rubbing alcohol dries out after about 3 minutes so you don't have to worry about the grips slipping while riding.

Slide the  ESI grips over your handlebars and rotate/pull them into the position you want. I found it easiest to do a rotation back and forth while pulling from the opposite side of the bike.
Rotate the ESI Grips so that the thicker side is on top to give you more shock absorption and comfort.
Once both of the grips are in place, push the bar end caps into place to finish it off
Wait 30 minutes and then shred some dirt!
I am a very firm believer that the ESI Grips are definitively the best mountain bike grips of 2013.