Like butter.
Felt Edict Nine 1 Review
The Felt Edict Nine is the full suspension line of XC mountain bikes. It is powered by the FAST suspension platform, which is a cross country specific product that Felt has been developing for the last several years. Designed to be highly efficient and feather light. The Edict 1 is an impressive XC bike, among the most impressive I rode at the Dirt Demo. Let's check specs
Specs From Felt's Website
| | |
| --- | --- |
| Price | $5,499 |
| Frame | Felt Edict Nine XC, UHC Performance carbon fiber, 100mm travel, Felt Active Stay Technology (FAST) suspension, InsideOut internally optimized molding process, Dynamic Monocoque Construction (DMC), full carbon dropouts, ControlTaper integrated head tube, internal derailleur cable routing, IS disc mount, replaceable derailleur hanger, standard 73mm bottom bracket, 12x142mm rear w/ Syntace style QR, Ø30.9mm seatpost size, low direct mount front derailleur |
| Fork | RockShox Sid RL, 100mm travel, PushLoc remote lockout, adjustable rebound, tapered aluminum steerer, magnesium lowers, 15mm Maxle, post style disc mount |
| Rear Shock | RockShox Monarch RT3 w/ custom tune, 165 x 38mm |
| Shifters | Shimano XT Rapid-Fire 2 x 10-speed |
| Front Derailleur | Shimano XT low direct mount, bottom pull, 2 x 10-speed |
| Rear Derailleur | Shimano XTR Shadow Plus 10-speed long cage |
| Brakes | Shimano XT disc w/180mm composite Ice Tech Center-Lock rotor |
| Brake Levers | Shimano XT |
| Cassette | Shimano XT 10-speed 11-36T |
| Chain | Shimano 10-speed |
| Crankset | Shimano XT Hollowtech II 2 x 10-speed: 38/24 |
| Bottom Bracket | Shimano sealed threaded |
| Wheels | Shimano XT tubeless compatible rims, Shimano XT angular contact sealed bearing hubs, 15mm axle front, 142x12mm axle rear |
| Tires | Schwalbe Racing Ralph EVO tubeless ready folding 29 x 2.1 |
This is the exact bike that I demoed at the Interbike Dirt Demo. It's dreamy. 🙂 🙂 🙂
How It Rides
This bike was soooooo great. The best part about the demo is how surprising it was. I went to the Felt tent with not a lot of high expectations. It's a brand that I considered second tier. I used to ride a Felt Q620 26″ hardtail before buying my Giant Anthem. So I was well aware of the brand and their bikes, but I never put them in that top stratosphere of quality. That was a mistake. This is one of the best 29er bikes I have ridden.
The Felt Edict Nine 1 was either the best or second best bike I rode at the dirt demo. The Edict and the Niner Jet 9 RDO were both just incredible, I don't know if I will ever choose between which one had the better ride.
What really made the Felt Edict Nine 1 stand out was the efficiency of the rear suspension linkage. This thing was AWESOME!! It was the most fluid and yet efficient rear suspension bike I have ever ridden. Totally blown away by it. On flat ground and while pedaling I felt very little sway or bob in the rear, it was very steady and I felt like I had a great efficient pedaling platform. It wasn't quite as rigid as the Specialized Epic with the Brain was, but it also felt much more fluid than the hardtail type feeling of the Epic. When hitting rocks, drops and anything in between it had great give, quick rebound and again still felt incredibly efficient while pedaling.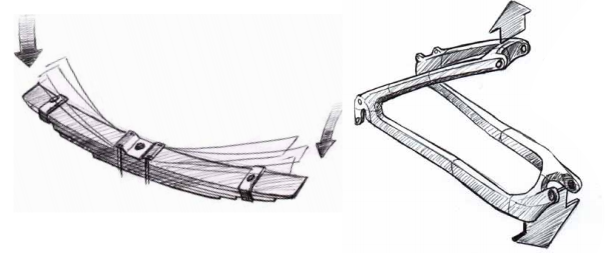 I was really curious why this particular suspension design felt so different from others. What I found out doesn't seem like it would be that different from what other bike companies are doing, but I definitely felt a difference in the ride. Basically, the Felt FAST suspension linkage uses the rear chainstay as a carbon fiber leafspring. Check out the image below for a bit about how this works. Images from the Felt Bicycles Suspension PDF.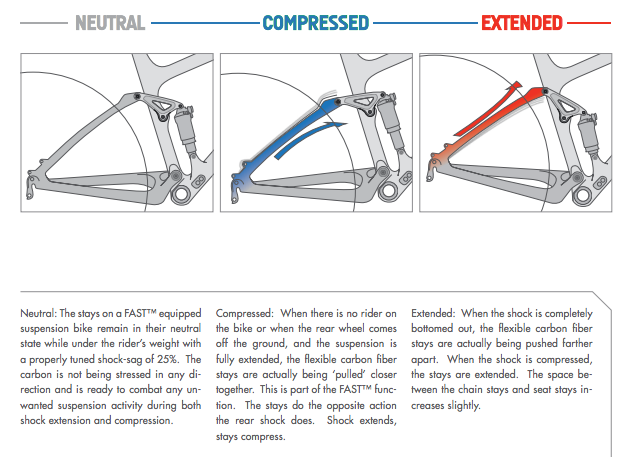 Using the rear stays as a leafspring to help smooth out transitions in the travel is pretty much genius in my opinion. I think this explains why it felt so responsive when changing between the neutral, compressed and extended positions. I would be surprised if other bike manufacturers aren't doing similar things, but this was the best feeling suspension of everything I rode.
The funny thing about this bike is that when I first mounted it and started riding up the road it had a strange quirky feeling to it. The geometry almost felt twitchy to the touch. And with no exaggeration I tell you that once it hit dirt it was the second most natural feeling bike I rode. It genuinely wanted to go faster and I actually felt sorry that i couldn't provide the speed the bike seemed to demand. Cornering and climbing was as solid as it got, technical sections were smooth and the whole trail just seemed to bow in front of the bike. And, by the time I got back to the road to return to the dealer tent I didn't feel the quirky twitchy control any more. Either I had imagined it, or I got used to it that fast.
Overall Thoughts
Could I gush over a bike any more than I already have? I seriously doubt it. This bike is terrific, I can't endorse it any more and I can say without a doubt that this is among only 3 bikes I would choose to ride over my current Anthem. And I think everyone knows how much I love it. The rear suspension was just that impressive and it seemed to be made perfectly for my style of riding.
As I've said with every one of these reviews, I definitely recommend you get to a local dealer or a Felt demo in your area to test ride one for yourself because your ride may be massively different from mine. There are so many variables that go into the best bike for each individual. While I personally love the race oriented geometry and very active suspension, you may prefer something the complete opposite. You won't know until you get on a bike and try it, so treat yourself to a fun days demo and get out there to test some bikes.