This is by far the coolest event I have ever participated in. So many bikes to ride and so little time. I was able to test ride 13 different bikes for a total of 42ish miles of singletrack over 2 days. Besides being beat I definitely was able to notice a lot of really interesting trends and learned a lot about the bikes overall.
First up, here is a list of all 13 bikes I demo'd at the 2013 Interbike Dirt Demo with a notation of (H) for hardtail, (FS) for Full Suspension, (C) for Carbon, (S) for steel and (A) for Aluminum.
Giant Anthem 27.5 level 3 (FS, A)
Giant XTC 27.5 level 0 (H, C)
Pivot Mach 6 (FS, C)
Specialized Stump Jumper FSR 29 (FS, A)
Specialized Epic 29er (FS, A)
Giant Anthem 27.5 level 0 (FS, C)
Surly Pugsley fat bike (H, S)
Marin Team CXR Pro 27.5 (H, C)
Felt Edict Nine (FS, C)
Fuji SLM (H, C)
Niner Jet 9 RDO (FS, C)
Yeti SB75 (FS, A)
Jamis XCT 27.5 (FS, C)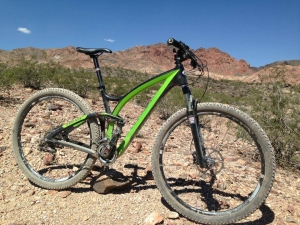 Aside from the Pivot Mach 6 and the Surly Pugsley all of these bikes are XC oriented. In total I rode 9 full suspension bikes, 4 hardtail bikes, 6 27.5″ bikes and 6 29″ bikes. I would have liked to have a better mix of hardtails in there, but it just kinda happened with what was available and what I really wanted to ride since I do personally prefer the full suspension riding style.
Over the course of riding there were 4 very big trends that I noticed and have listed below. I will elaborate on each of these in the recap.
Shimano brakes are much better than Avid (Sram)
Carbon bikes ride much differently, and better
Sram XX1 and XO1 are ideal for Texas XC riding
27.5 and what it entails…
About The Interbike Dirt Demo Trail
First I want to talk about the trail that these demo's took place on. I stayed exclusively on the XC course at the demo, and never went to the downhill course at the top of the hill. The XC trail was roughly 2.6 miles with around 250 feet of climbing per lap.
Ultimately, I felt that the course was pretty comparable to what we have in DFW and most of Texas except that there were no trees. The course itself had some good rolling hills a lot of loose dusty stuff and a few nice steep climbs. Here in the DFW area I would put it as a cross between Northshore (east side) and Sansom… but with no trees.
Here is a look at my Strava from day 2 of the dirt demo. I kept it running throughout the entire day so that it could catch all of the rides. You can match the segments up to the bike starting with the Surly Pugsley (#7) above. You'll notice that the 5th bike of the day, the Niner Jet 9 RDO had the best segment time of any bike I rode.

All rides were done at a fairly moderate effort so as not to waste too much energy so that I could keep riding as long as possible.
On to the trends!
Trend 1: Shimano brakes are better than Avid (Sram)
Without a doubt. Through the 13 bikes that I rode this was the most glaringly obvious trend that stuck out to me. The shimano brakes, no matter whether SLX, XT or XTR were better than the Avid or Sram brakes. It didn't matter whether they were XO, XX or Elixer 7's they just did not compete. In fact, the worst braking ride I had was on a set of Sram XX brakes.
Why were the Avid (Sram) brakes so bad?
The most glaringly obvious problem was the incessant turkey warble that came from all of the Avid brakes. Every single bike that had Avid's had the awful turkey warble. Not sure what I mean? watch the video below and you'll immediately understand. It's a high pitched pulsating squeel that happens when you apply pressure while braking.
The interesting thing is that not a single Shimano set had that sound.
The second thing that I noticed about the Sram (Avid) brakes is that they all took longer to engage. I would be halfway through a pull stroke with my hand before these brakes ever put any stopping power to the brake pads. The Shimano brakes on the other hand were pretty much immediate in applying stopping power. Once you squeeze the lever it quickly begins to stop the bike. And at full braking power the Shimano's seemed to be putting more stopping power to the brake faster. Giving it a much more controlled feeling.
Trend 2: Carbon Bikes Ride Much Differently… And Better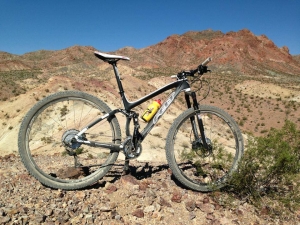 This was a huge surprise to me as I have often downplayed the performance advantage of a carbon bike when I discussed them. But, I also had never had the opportunity to really ride one and certainly don't have the money to afford one. But after riding 8 different carbon frame models there was most definitely a difference in riding Carbon vs. Aluminum or the 1 Steel frame.
Where the difference was the most noticeable was in the stiffness of the frame. Especially in the G-out sections and when climbing. The thing just felt like a lightweight rock with no flex to it. Which by the way, I never noticed how much flex was in an aluminum frame until riding carbon. There is a big difference, some more so than others.
I also noticed carbon FS bikes tracking better in loose/small rocky areas than the aluminum FS bikes. The tires tended to stick to the ground better giving you a more stable feel. I'm not exactly sure what to attribute that to. But it was definitely a trend that I noticed. Perhaps it is from carbon fibre giving more vibration dampening… I don't know.
Carbon Hardtails however still had a lot of skid, but I think that was also caused by the high tire pressures the demo bikes were running at.
Trend 3: SRAM XX1 And XO1 Are Ideal For Texas XC Riding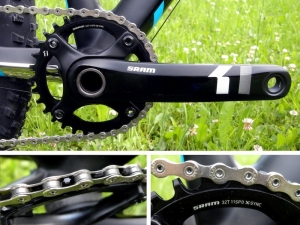 I can't rave enough about how great I thought the XX1 and XO1 drivetrains were. These things were golden! I believe that I rode roughly 4 or 5 bikes with the XX1 or XO1 drivetrain and couldn't help but gawk at how amazing they felt. Smooth, precise, and extremely fast for changing gears. I certainly didn't feel that I lost anything from the 2×10's that the other 8 bikes had on it.
Since we really don't have an abundance of lengthy climbing here in Texas I see these drivetrains as ideal for our area. The XX1 and XO1 are more lightweight, simple and supposedly more durable than their 2×10 brothers and with the right front chainring will give you more than enough firepower for most trails in Texas. While you won't quite reach the lowest low gear or the highest high gear available on the 2×10 you most likely won't notice it very much.
The cockpit alone on these 1×11 bikes were cool, everytime I looked down and noticed this great big free space at my left hand I smiled. Does that free space actually benefit you, probably not. But it was something that I noticed over and over again and figured it was worth mentioning. Putting a remote fork or suspension lockout in this freed space could be a good use, especially for racing in flat open trails where that extra stiffness can really be taken advantage of.
Trend 4: 27.5 And What It Entails…
This was the trend that I most wanted to put to the test after having heard all the hype about 27.5 from my local shop and others in the industry. While the concept of 27.5 made sense in my head and the benefits seemed tangible I really wanted to find out for myself what the hype was about and how noticeable it was.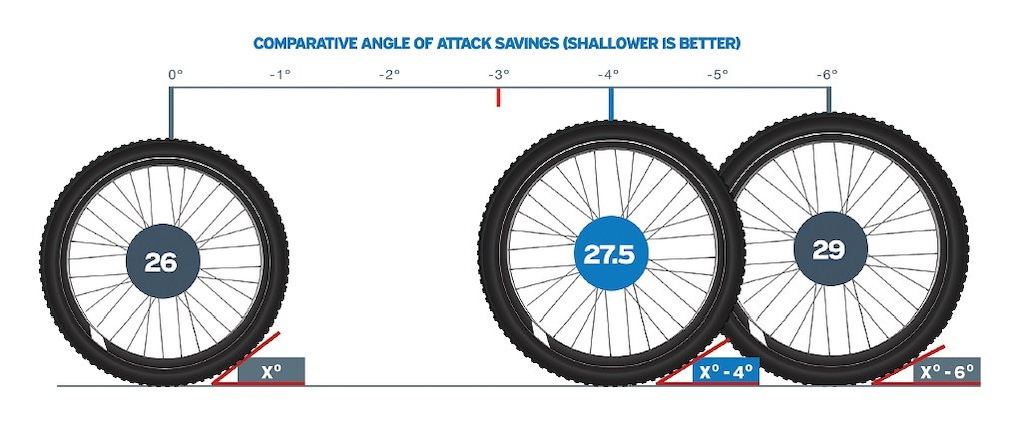 After all the riding was said and done I had an equal mix between 27.5 and 29ers. Ultimately I was really unimpressed with 27.5.
An upfront disclaimer: I do think I probably have a 29er bias as it is what I regularly ride and personally prefer. I also feel that the Interbike Dirt Demo trail was better suited for a 29er because it was so open with no trees and relatively few tight turns. However, I feel the following points are still pretty accurate. I do plan to do more test riding of the new 27.5 models in the near future on my home trails so that I have a more complete reference point of these new bikes. That said, please read what my initial thoughts were on the 27.5 wheelset.
I expected to be able to feel the nimbleness of the more agile wheelsize, the prime benefit that everyone has been talking about. Instead it felt the same as a 29, but slower. The Giant XTC 27.5 was the closest that one of these bikes got to feeling really good, but it still just felt like it was lacking compared to the 29ers I rode.
The 27.5 bikes felt slower because I definitely was getting more rolling resistance. The bikes just felt sluggish while rolling and definitely gave more feedback than I was used to while going over bumps or rocks. Sometimes even causing me to take a different line than I really would have preferred.
I do give the 27.5 some credit for feeling stable though. One of the other benefits that the 27.5 touts is that despite the smaller tire size the contact patch stays nearly the same as the 29er. And it did feel very stable as far as contact with the ground was concerned, something that I recall being an issue with my old 26″ bike.
I plan on doing a much more in depth look at 27.5 vs 29 in the near future because there is a lot more to this debate that I want to get into, but for this recap of what I saw at the Interbike Dirt Demo and what I experienced in my 13 test rides I will leave it at this…
27.5 is a good change for anyone that is still riding a 26, but as for most Texas riding it will not be as good as riding a 29er. I recommend that if you are interested in the 27.5 wheelsize, that you demo a bike or two from your local bike shop and develop your own opinion.
What's Your Thoughts?
What do you think? Does my recap leave any burning questions about the trends that I noticed? If you leave feedback as a comment below I will definitely be replying to each individual comment with my thoughts.