As a brand new rider did you ever wonder what kind of mountain bike clothing to wear?
When I was a brand new cyclist I had no idea what to wear when mountain biking. I would show up for a ride and see guys dressed in what looked to me like underwear. Meanwhile, I just wore basketball shorts and a cotton t-shirt.
Before long I had chafed nipples and saddle sores on my butt from riding in the wrong kind of clothing. Not a pleasant way to start my new cycling hobby.
So what kind of clothing should you wear when mountain biking? Well… you can always go naked.
Mountain Bike Clothing
Ok, maybe not naked. You've pretty much got two options when you look into mountain bike clothing. Performance mountain bike clothing
, or baggy mountain bike clothing. Let's take a look, but please take note that these are just my suggestions from several years of riding.
Your preferences may be completely different and thats totally cool. It's a personal preference for everyone, so go with what you like.

Baggy Mountain Bike Clothing
The skin tight performance clothing isn't for everyone, many of us feel more comfortable wearing baggy mountain bike clothing. For me personally, it took a long time to work up a comfort level to wear the really skin tight gear. So I absolutely dig wearing baggies.
An additional reason that I have found baggies to be really great is if you have errands to run on the way to or from riding the trails. Walking into a grocery store wearing skin-tight lycra is a bit on the awkward side. This can be pretty easily avoided by wearing a pair of baggy shorts and a good moisture wicking t-shirt.
Tips on selecting baggy mountain bike shorts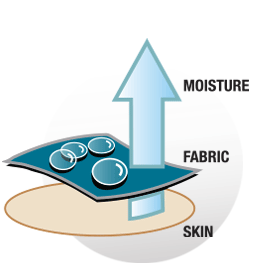 That's the biggest key to look for in any kind of mountain bike clothing, make sure it is made of moisture wicking material. It's important because it draws the moisture and sweat away from your skin. This prevents chafing and that soggy weighed down and sticky feeling while riding.
It's also important to find a pair of baggy mountain bike shorts that have a good well-constructed chamois inside of it, a comfortable and breathable inner lining, and is made of a thick rip-stop type material on the outside.
Tips on choosing baggy mountain bike jerseys
The jersey can be anything, just so long as you avoid cotton. Some of my favorite shirts to ride in when I'm wearing the casual baggy style are just plain moisture wicking, breathable t-shirts I've picked up at Wal-Mart or Target. Nothing special about them, and certainly not breaking the bank.
The big tip I have is do not wear cotton. And that includes underwear. Cycling shorts are meant to be worn directly against the skin, whether baggy or tight shorts it doesn't matter. This is so that the moisture wicking material can do its job and transport the sweat away from the skin and prevent chafing. It also helps with keeping the padded chamois in place as you move so that your sit bones are protected.
Seriously, just don't wear anything under your shorts. bunching, chafing and the general discomfort isn't worth it.
Performance Mountain Bike Clothing
So if you are more comfortable wearing the skin tight Performance mountain bike clothing
, then these tips are for you. A lot of the tips are the same but there are a couple of things that you want to look for in both the high performance jersey as well as the bib or shorts.
Figure out whether you want to ride in bibs or shorts
Bibs have overall type straps that hold them in place on your body. Shorts are a little more natural feeling if you aren't used to the bibs. My preference is for bibs, and here is why.
Bibs help to support your lower back, core and posture. Sure its just ever so slightly, but on a long ride every little bit helps. 

Shorts typically have a drawstring or band around the waist. After being hunched over on top of it for 30 minutes that band will usually start to dig into your stomach which is really uncomfortable. 

Bibs don't fall down. I've never owned a pair of tight cycling shorts that did a great job of staying up and it always made me nervous about whether or not my buttcrack was showing to riders behind me. With a bib its held securely in place all the time by the overalls.
The one bad thing about bibs is that when you have to go to the bathroom, you pretty much have to strip off your jersey then pull down the bibs and it can be a real hassle. Try to always get that done before getting dressed though and you shouldn't have a problem.
Tips on choosing a performance cycling bib
when your looking for a performance cycling bib you will want to find a pair that meets the following criteria.
Good solidly constructed chamois. Things you will want to look for are multi-density padding and seamless stitching. Cycling chamois come in a huge variety of styles, each one designed slightly different and with a slightly different fit. 

High quality leg grippers to hold them in place.

An attractive design. When in doubt, go with black.
Unfortunately cycling kit design, in my opinion, is almost universally terrible. Especially for people that carry a little extra weight. The bright colors and sharp designs that are used really accentuate the extra pounds and its very unflattering. The cycling industry as a whole has a long way to go before they start making attractively designed gear, but there are a few companies doing some good work already. Brands like Hincapie and Louis Garneau make some much more attractive designs, but my all time favorite in pure style is Twin Six. They make some absolutely fantastic cycling clothes that are well styled and don't look something out of a power ranger commercial.
Tips on selecting a performance cycling jersey
The most important thing, just like with everything else, is that it is made of high performance moisture wicking and breathable material. Beyond that it is preference.
I would recommend getting a jersey that has a full length zipper on the front, or at a minimum a 3/4 length zipper. When it gets hot in Texas it gets HOT, being able to unzip your jersey and allow the wind and air to move across your chest can really re-energize you on a long ride and help you prevent overheating.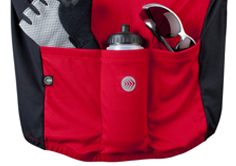 Pockets on the back of the jersey are also a big plus. If you carry your keys, phone or just a spare tube with you while riding this is where you will probably put it. Since you don't have pockets on a bib or cycling shorts the jersey pocket is kind of your one spot to hold everything. Most bibs come with the standard 3 pockets on the rear, but some makers will only use 2 or will use zippered pockets. They come in really handy, so I do rank having them as a priority.