Reveille Peak Ranch Mountain Bike Trail
Reveille Peak Ranch is one of the premiere mountain biking trails in the state of Texas. With over 60 miles of combined singletrack and doubletrack riding it has plenty for anyone. Located in Burnet Texas, it is in the heart of the Texas Hill Country off of Lake Buchanan, and only an hour away from the incredibly popular Fredericksburg. It's location makes for a great opportunity to take your significant other to Fredericksburg for a romantic weekend getaway followed up with a day or two of riding these amazing trails.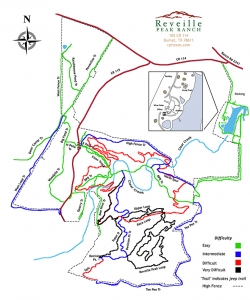 The terrain at RPRTexas, as Reveille Peak Ranch is known on social media, is rugged and much of the trail is very technical. I spent my time riding the most challenging sections, and they really do live up to the hype. There is roughly 100 feet of climbing per mile of trail at Reveille Peak Ranch, but in my experience I didn't realize that I was climbing that much. The majority of the climbing seemed to come in fun technical sections that kept my mind from focusing on the climbing.
The trail itself is very technicalnon the southern portion which includes the Reveille Peak Loop, Upper Loop and Epic trails. More beginner friendly trails are featured in the north half closer to the main pavilion, restrooms and office. While riding the upper loop I actually felt like I was pushing my bike as much as I was riding it. Really, it's more about momentum and flow, once you get stopped it can be hard to get going again. The clip of me flipping over my handlebars in the below video happened on the Upper Loop.
The course is well marked and the staff at Reveille Peak Ranch really make an effort to keep the trail in prime condition. There were a few crossroads that can be a bit confusing, but once you stop and really look at it you should be able to figure it out quickly. One thing you must do when you ride RPRTexas is to climb to the top of Decision Point. It is a gorgeous overlook where you can see the countryside and Lake Buchanan below you. Just an awesome view.
In addition to the incredible singletrack there is a pump track for building skills, a flow track and a super D (downhill) course to keep you busy. If you get tired of the bike and want to spend some time doing something different there is fishing, stand up paddleboards, kayaks, camping and more. For those with a significant other or friends that may not feel up to the challenge, my wife has reported that there is a really great cave tour nearby.
Trail Length
Up to 62 miles of singletrack and doubletrack riding. Depending on which trails you choose to ride.
Difficulty
Intermediate to Advanced
Trail Head
105 CR 114, Burnet, TX 78611

View Larger Map
Did you enjoy this article?
Get Free Updates