Long Hard & Dirty, that is absolutely the NETT and it fits perfectly with the Spinistry motto.
For those that have been hiding under a bridge the past month or so (trolls), last Saturday was the first ever Ride The NETT, a mountain bike rally of sorts that drew over 200 people to the cities of Farmersville, Celeste, Wolf City, Ladonia, Ruxton and Paris.
Here at TXMTB we've done lots of coverage of the Northeast Texas Trail (NETT) and rightfully so! It's an amazing resource for those of us who like to ride off-road. Whether rain or shine, the NETT is up for the challenge.
Here's a look at some of the coverage we've done already.
As a quick recap of what the NETT is, it is an old railbed that has been converted to a multi-use trail spanning 130 miles one way from Farmersville to New Boston.
Ride The NETT 2013 Review
Saturday November 2nd The Spinistry put together a really incredible event called Ride The NETT and held a multi-distance rally for all levels of riders. There were people doing anything from 15 miles all the way to 150 and I think a 200+ mile weekend long excursions.
The city of Farmersville played a gracious host for the days festivities and let us use what they call "The Onion Shed" for the rider meeting and organization. It was a perfect launching point for the event with the shed's raised platform making a perfect stage and registration checkpoint. It was a great site to see so many dedicated and adventuresome riders out enjoying this currently unknown gem.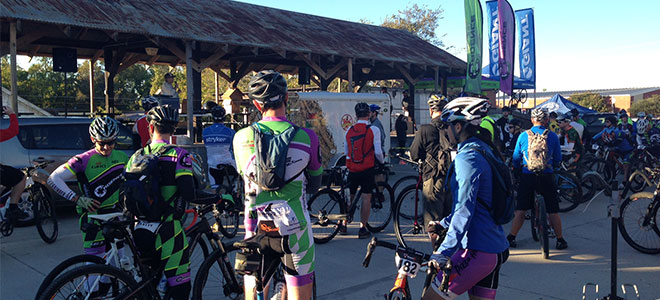 Kevin Lee of The Spinistry gave us a pre-ride pep talk and the Farmersville Police Chief gave us an escort off of main street and out to the road that took us to where we would start our journey on the NETT.
I had chosen to do the 70 mile ride for no other reason than the promise of pie at mile 35. I don't consider myself an endurance athlete as I get bored and my butt/feet hurt too much after 2 hours in the saddle. But how can you turn down a free piece of pie? I sure couldn't and so my choice was made.
Starting off in Farmersville the NETT is a paved concrete trail for about 2 miles and then quickly turns to a fantasticly-smooth sand covered surface. While I was in the back of the pack saying hi to friends the leaders were cooking away off the front at a 20mph pace on this perfectly manicured trail. For the next few miles we enjoyed the easy gliding and gradual descent out of Farmersville. What was even better is that this area had a perfect tree-covered canopy over the majority of the trail.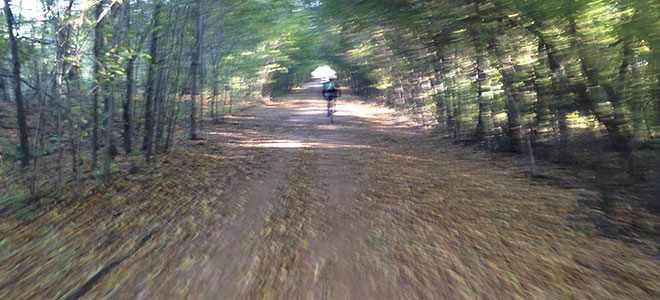 A few miles before reaching the first town of Celeste the trail became much more rough, like fresh cut trail that hasn't been ridden in just yet. It ended up being much more rough than what I had imagined, and I genuinely felt sorry for the guys that were on cyclocross bikes out here. I was much happier on my full suspension 29er. This rougher, more un-cut trail of course resulted in plenty of flats along the way and after stopping to help a pair of people fix theirs I made it to the town of Celeste.
style="display:inline-block;width:300px;height:250px" data-ad-client="ca-pub-5455879361689209″ data-ad-slot="3295962406″>
Just before Celeste the trail turned briefly to asphalt, however the asphalt hadn't been set properly and over the years had developed what Kevin called "cracks" at the pre-ride meeting. In reality I think they were classified as gorges or canyons. Some of these things were big enough to swallow a fat bike tire into.
But the cracks just made the adventure all the more fun as I bunny hopped, wheelied and dropped between cracks. There was plenty of room to avoid them and ride only on the smooth asphalt, but where would the fun be in that. 🙂
After Celeste the trail got a little more rugged with a mudpit here and there. On our way into Wolfe City we had the only real detour due to mud and it was only a 35 foot detour if that. This trail is great for rainy weather, I can say that for certain. On our way into Wolfe City we also got to view the coolest part of the trail, the many trestle bridges that span creeks, gullies and low land areas. While I saw a few people ride over the top of these I didn't want to risk losing a bike or wheel and just enjoyed the walk over the top.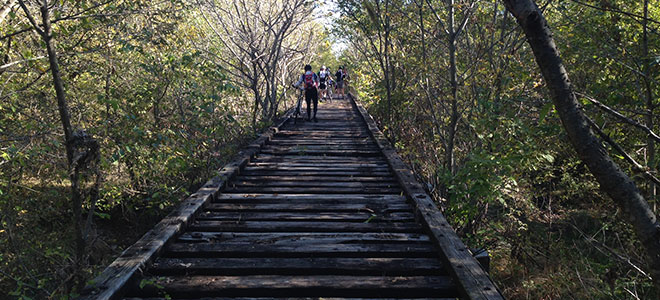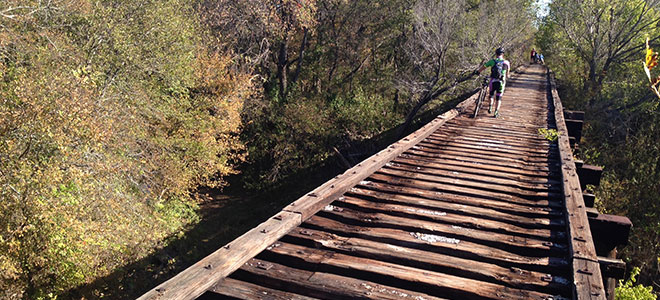 It was about this time that I met up with fellow Cadence Cyclery teammate Alan Pocock and decided to ride the rest of the day with him. We stuck with a relaxed pace from there on as we talked along the way and just enjoyed the gorgeous scenery and trail.
Coming into Wolfe City several locals had setup a small tent and were passing out bottles of water. SCORE! It was amazing to see just how enthusiastic they were about us being out there, enjoying the trail and visiting their town.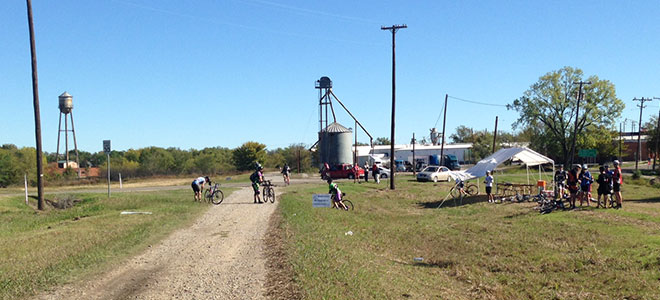 At this point I was still feeling fresh and enjoying the day so we quickly pushed onwards towards Ladonia. That afterall is where the pie was waiting for us. The trail got progressively more overgrown along the way, the further we got from Farmersville the more rugged it got. However, throughout the entire trail there were very clear ruts from previous riders who have blazed the trail. It was amazing to be able to ride such unknown trail and never have the worry of getting lost.
Midway between Wolfe City and Ladonia I started getting really moody, angry and pissed off. My butt hurt, my feet were already sore and for some reason I was just incredibly frustrated with everything going on around me. It was about this time that I realized I was over 2 hours into this ride and hadn't eaten a thing. I pulled over for a bit and grabbed a Honey Stinger Waffle from my Camelbak and just enjoyed eating for a minute. Sure enough, that fixed the attitude and I was back off, only 2 more miles til pie!
Once arriving in Ladonia the whole town square was setup for us to use. Park benches, Gazebos, and Dennis Welpe's world famous grilled cheese sandwiches. Oh, and a City hall filled with PIE!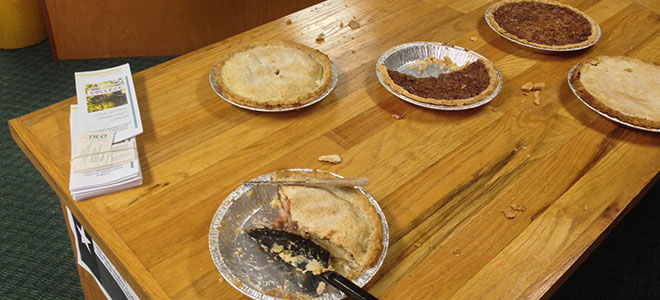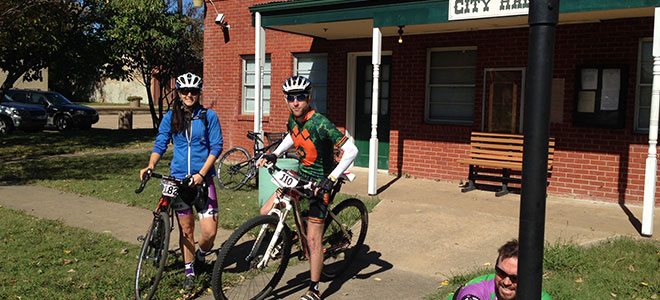 Since I had only had a Honey Stinger Waffle thus far, I loaded up on a grilled cheese sandwich, a piece of apple pie and some water. Nothing hits the spot after 31 miles of riding like a slice of heavenly delicious pie, probably the best Pie I've ever had.
Alan and I turned back toward Farmersville and started our ride back.
It's funny how much smoother the trip back seemed to be than the trip out, and even more funny how the trail gets progressively smoother the closer to Farmersville you get. At each city in between the trail quality bumps up to another level in terms of maintenance and ride-ability.
Around Wolfe City I started to notice some slight soreness in my knee from the ride. I have a torn ACL that was never repaired from a high school football injury and sometimes it starts to get sore. This ride is more spinning than I had imagined and there is literally no where to coast or rest your legs since there really isn't a downhill section and the rough trail slows you down rather quickly with all the small bumps and tall grass.
Reaching the smooth pavers sand trail back in Farmersville was the best part of the ride. After 5 hours in the saddle, with very little standing by the way since there was no turning, climbing or obstacles, my butt was sore, my feet were beat and my shoulders feeling stiff from the long bumpy trail. I had just run out of water as I made my way onto the paved concrete trail outside the onion shed. Timing couldn't have been more perfect. The ride ended up being 61 miles instead of 70, but I was grateful for the 9 fewer miles by the time I finished.
TLDR: Ride The NETT 2013
The NETT trail is great, a real gem of the south and I definitely hope that one day it can become as popular as the Katy Trail in Missouri. It still needs lots of wheels on dirt to cut a smoother path, especially in areas further from Farmersville. It's a non-stop spin, there is no place to rest your legs or coast as the rough ground quickly slows your pace. Expect to spin your legs for the entire duration of the ride which makes it a great place to work on cadence or sustain a consistent threshold training zone.
Ride The NETT 2013 was awesome. I can't wait to come back in 2014 to ride it again, maybe even for 100 instead of 62. It will be really neat to see how different the trail becomes in a year with more and more people riding it.
Below is the Strava segment for the Farmersville to Ladonia section.